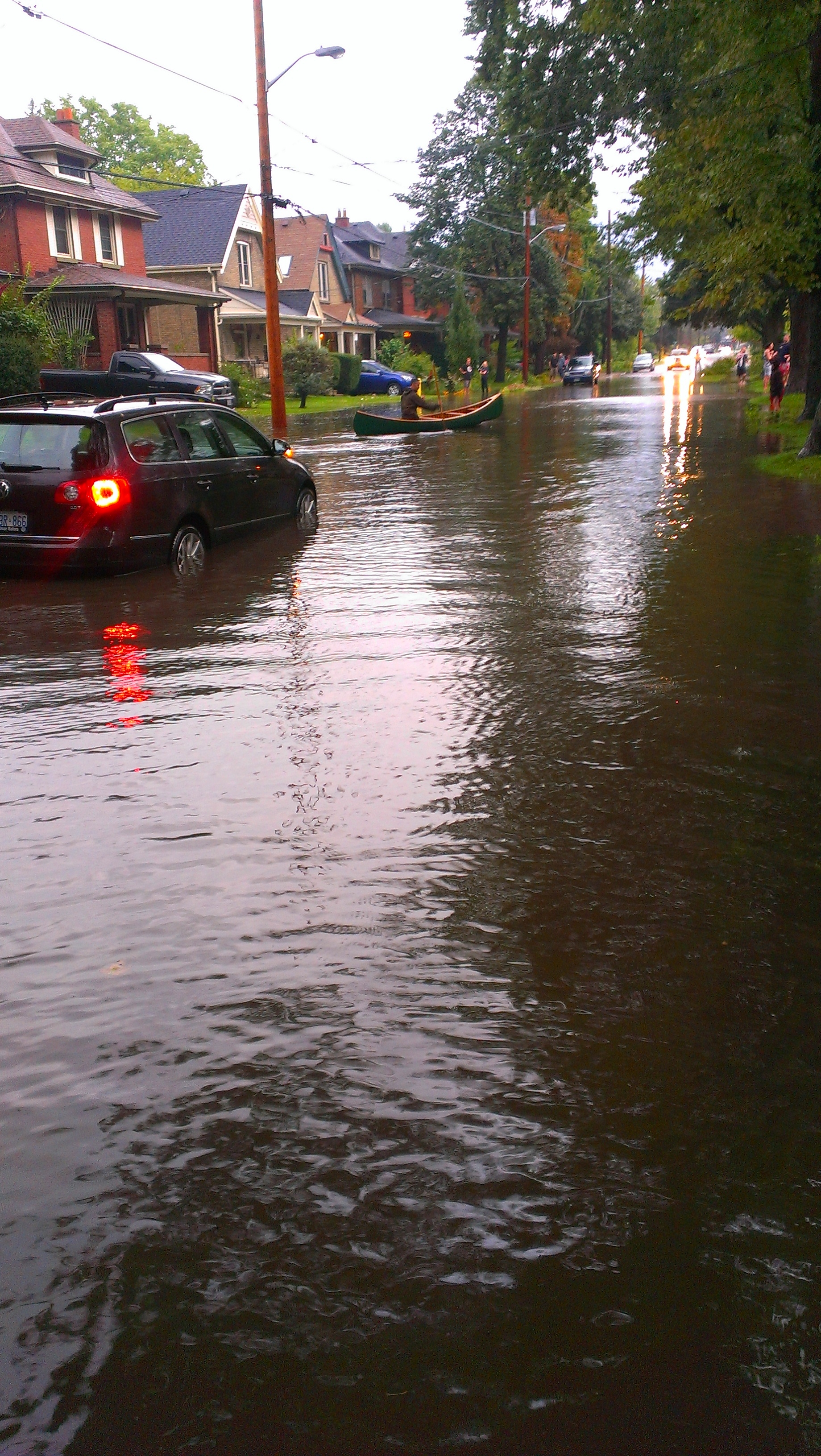 About Old East Village
2014 Choix du Public – Quartiers
Picture a place where you're greeted cheerfully as you pass your neighbours' heritage porches on your way to a recreational walking or cycling group? Where you attend a world-class concert venue one night, take in community theatre the next, and enjoy one of your city's most beloved block parties the day after? Where you have a hand in making these things happen and making your home a great place to live? The Old East Village in London, Ontario is a truly great neighbourhood with extraordinary attractions, amenities, heritage, and social opportunities and an inclusive community character where all residents can help shape its future.
Located just east of the downtown and some of London's other great neighbourhoods, the Old East Village (usually OEV) is a core neighbourhood largely built before cars for people without carriages. Densely built and populated, it enjoys a friendly front-porch culture in its residential area and, after a long period as London's industrial centre and a subsequent decline, is re-inventing its main street corridor as the city's cultural centre.
The Dundas Street commercial corridor connects to the city's downtown by bus, car, bike or foot, and also serves as the OEV's crossroads. It's anchored by restored regional attractions like the Aeolian Hall; the Palace Theatre; the London Clay Art Centre; and, on Saturdays, by a farmers' and artisans' market that attracts thousands. It's filled out by dozens of cafés, restaurants, galleries, unique owner-operated businesses, and smaller performance venues making a rich centre of commerce where Villagers buy their meat, bread, cheese, and coffee; where they are entertained; and where they gather to discuss visions for the neighbourhood. The area Business Improvement Area — staffed largely by residents — has taken a "build it and they will come" attitude, and façade restoration has created an attractive setting for events like caroling and other shop local initiatives. It has also assisted neighbours trying to save an embattled school and re-design a beautiful but once-forgotten city park. With its help, the Village main street has become one of the city's best-loved, best-known, and best-connected cultural and shopping districts.
The residential community is also enjoying the fruits of a "get it done" attitude. An energetic volunteer recreation council programs accessible recreation at public amenities like the community centre, public library branch, and neighbourhood school. Most famously, they run a recreational soccer program that boasts hundreds of participants from all over the city; have launched a club-quality Tae Kwon Do program; and build a community rink each year.
An active community association with hundreds of members mounts annual social events like the much-loved Old East Village Block Party and promotes more of the community's famous social gatherings. It also helped get heritage designation for part of the neighbourhood; continues to ensure that new housing is mixed and affordable; maintains social media forums; and helps to manage growth in a way that respects the area's history and diversity. Currently, it is engaged planning for an empty lot in the area's centre and an area plan for the site of a disused factory.
Even with its cultural resources, its history, its amenities, and its charm, the OEV is still re-defining itself. Energetic and engaged neighbours are daily forming new groups around cycling, running, walking, crafting, music-making, and community gardening. Symbolized sometimes by the retired steam locomotive that stands at its centre, the OEV is a train driven almost entirely by volunteer power, and everyone who lives here, newcomer or stalwart, can still hop on board. And that makes the Old East Village a wonderful place to live and a truly great neighbourhood.
Our Year The OEVCA 2013 AGM Slideshow (Enhanced) from Paul Seale on Vimeo.